Max: 3000 x 1500 mm
Thickness: 0.8 – 6 mm
All metals: steel, aluminium, stainless steel, copper, corten…
Automatic loading and unloading
Combimachine: laser, punching and tapping 
Unmanned production = cost saving
Special processes like engravings, tapextrusions, countersinks, louvers…
Sharp cutting edges
Short setup time because of integrated toolstation  = cost-saving
PLATINO FIBER EVO 1530 + NIGHTTRAIN
Max: 3000 x 1500 mm
Van 0.5 tot 20 mm dik
All metals: steel, aluminium, stainless steel, copper, corten…
Automatisch laad- en lossysteem (Nighttrain)
Bewegende laserkop
Onbemande productie = kostenbesparend
Hoge snelheid = korte levertijd
Ook grote series geschikt door automatische opslag in Nighttrain
Geschikt voor snijden van aluminium
Uiterste precisie
Bewegende laserkop = geen krassen
Max: 3000 x 1500 mm
Thickness: 0.8 – 6 mm
All metals: steel, aluminium, stainless steel, copper, corten…
Automatic loading and unloading
Combimachine: laser, punching and tapping
Unmanned production = cost saving
Special processes like engravings, tapextrusions, countersinks, louvers…
Sharp cutting edges
Short setup time because of integrated toolstation  = cost saving
Max: 3000 x 1500 mm
Thickness: 0.8 – 6 mm
All metals: steel, aluminium, stainless steel, copper, corten…
Automatic loading and unloading
Combimachine: laser, punching and tapping
Unmanned production = cost saving
Special processes like engravings, tapextrusions, countersinks, louvers…
Sharp cutting edges
Short setup time because of integrated toolstation  = cost saving
SAFAN DARLEY H-BRAKE HYBRID
Max: 3000 in width
Thickness: 1 mm – 8 mm
All metals: steel, aluminium, stainless steel, copper, corten…
Servo-hydraulic press brake
Equiped with active angle measurement
Accurate bends due to  E-Bend active angle measurement
Radius bending
Integrated benidng assist for heavy products
X-size up to 1100 mm
In the sheet metal industry, there are countless other techniques. Besides the machinery mentioned above, The Steel Company has various other machines to process sheet metal. More information is listed below.
By utilizing modern techniques, every weld can be realized at The Steel Company. Our experienced team is well-trained and has years of experience.
The Steel Company has multiple pressing machines that are able to attach press-in nuts, bolts, and fasteners to the sheet metal.
By using special chemicals, the surface of the metal sheets is treated. As a result, the discoloration of the previously created welds is removed.
In this production process, metal sheets are bend in a cylindric shape with the correct radius. This is mostly used in the making of large metal storage tanks.
This machine is specially developed for the production of mudguards for trucks, trailers, and agricultural vehicles. With this machine, aluminium mudguards are rolled in the desired shape.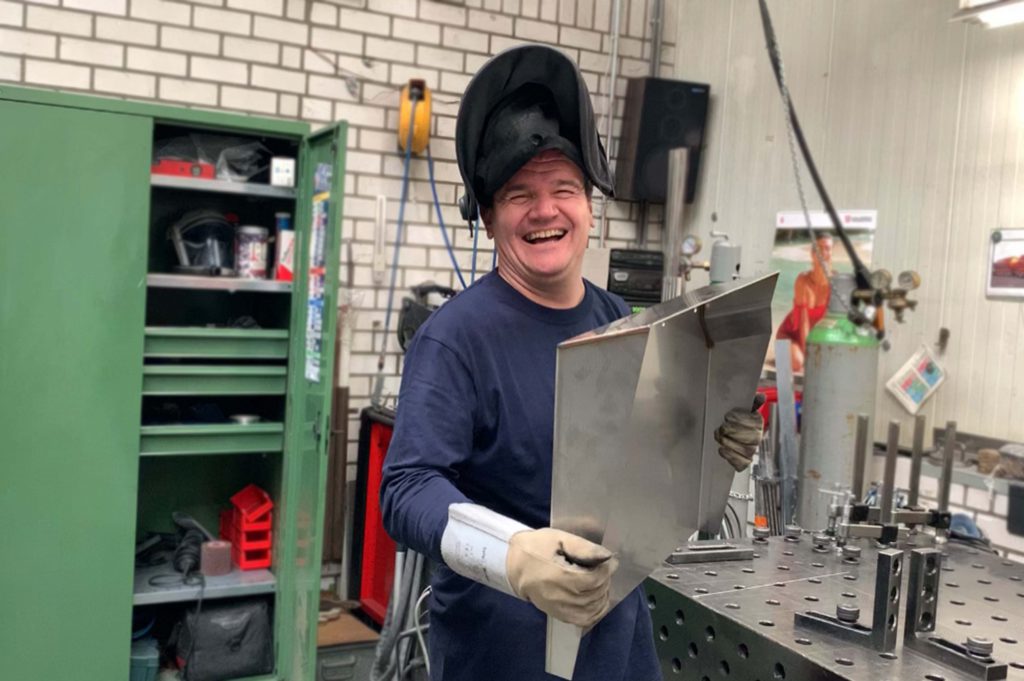 This is our most sociable machine. Better known as Lucky Lowie, since he welds quicker than his own shadow.
Can eat up to 3 Brabantse worstenbroodjes per minute
80 kilograms of pure humor